Everyone loves pizza, but not all pizza is created equal. With 65 years in the pizza business, the question should be: "Why NOT Cottage Inn?"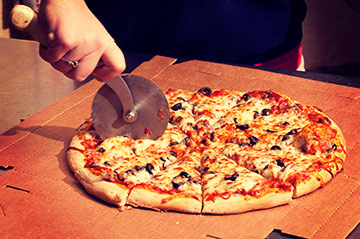 When you're in the mood for pizza, do you crave pepperoni and cheese or artichoke and chicken? With more than 30 gourmet pizzas on our menu and made at every franchise, the consumer's wish is our command. We have the pizza to answer every craving, like our Ranch Taco, Philly Steak Supreme, Spicy Mediterranean, Bacon Cheddar Burger, Spinach Supreme and BLT, just to name a few. With Cottage Inn Pizza, you get fresh dough made daily, a gourmet blend of fresh, never frozen cheese, and the tastiest vegetables we can find. What customer would not love that?
At Cottage Inn, we are more than just pizza. We offer crisp salads, traditional and boneless chicken wings available with 10 sauces, 17 satisfying sub sandwiches made to order with only the finest of ingredients, and tantalizing desserts such as our Cinnamon or Chocolate InnStix. If that does not meet your needs then look to our savory calzones, sensational lasagna or extra-tasty garlic cheese bread accompanied with a choice of a variety of irresistible dips. No matter what the customer desires, Cottage Inn rises to the challenge.
For those who crave a healthy choice, Cottage Inn offers a line of gluten-free products that our customers rave about! For the busy parents or those in charge of organizing a meeting or party, Cottage Inn offers the convenience of catering as well.
Scrumptious, delicious, unforgettable – which word describes the food at Cottage Inn? All of them!
Fun, profitable, exciting – which word describes the Cottage Inn Franchise opportunity? All of them!